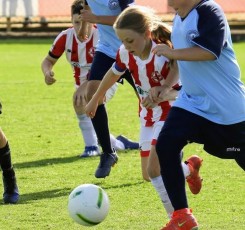 Player Profile brought to you by Marshall White.
Charlotte 'Lotte' Lynch has always had a strong family connection to the Mornington Peninsula. Living in Mount Eliza was long on the family 'to do list', but it was the COVID19 pandemic that expedited a relocation from the suburbs of Melbourne to our village by the sea.
Seeking to continue Lotte's love of soccer, the Lynch family looked for a suitable club and team for their energetic and athletic young daughter. One that could offer the same high-level training and games she had received in her former elite U9 girls team at the Glen Eira FC. In January, the Lynch's heard that the Mount Eliza Soccer Club (MESC) was grading players for their U10 Academy and teams. Lotte knew a few MESC players from her summers at the Mornington Life Saving Club and decided to try out. Unfazed at being the only female player in the squad, Lotte's skills shone through, and she was soon selected in both the U10 Academy squad and U10 'Kangaroo Grade' team.
'Lotte is a joy to have in our side' said the U10 Kangaroo coach, Michael Bettess. 'She works hard, has amazing skills and pace, shows intelligent positional play and is fearless against often bigger and stronger opponents. She has the earned the utmost respect from all of her teammates and is an integral part of our little team'.
Lotte's commitment to her new team and club were recently exemplified when she was nominated as the 'player of the day' by the team's coaches after a scintillating display on the pitch and against none other than her old club – Glen Eira FC!
'Lotte is loving life in Mount Eliza and as a player at the MESC' said Lotte's mother, Tria Williams. 'Mount Eliza is a great place to live and the MESC has offered us a supportive and welcoming team environment. What the club lacks in some facilities, it makes up for in dedication and commitment to its players and their development.'
As for Lotte, well she is just having lots of fun playing soccer with friends 'old' and new.